Photographer Reuben Wu has taken rocky pinnacles and to  loftier visual heights – by adding halos to their craggy heads.
Part of his  Lux Noctis project, that lights rocky landscapes at night, these recent images add a unique creative touch.
To add the halos, Wu circles the already spectacular pinnacles with a drone, whilst taking a long-exposure using his 100MP PhaseOne XF camera.
Wu's Lux Noctis documentary
For more of Wu's work, be sure to check out his website, Instagram, Facebook, or Twitter.
---
With thanks to Edd Carr where I found the original story.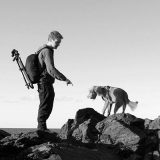 Ed Carr is a Yorkshire-born landscape photographer and nature writer. Having spent his youth in the North Yorkshire Moors National Park, he takes any opportunity to don his hiking boots and head out, camera in hand. When not out taking pictures or hastily scribbling down his thoughts, Ed's halfway up a hill out chasing after his dog, Hendrix.